Scholarship Opportunities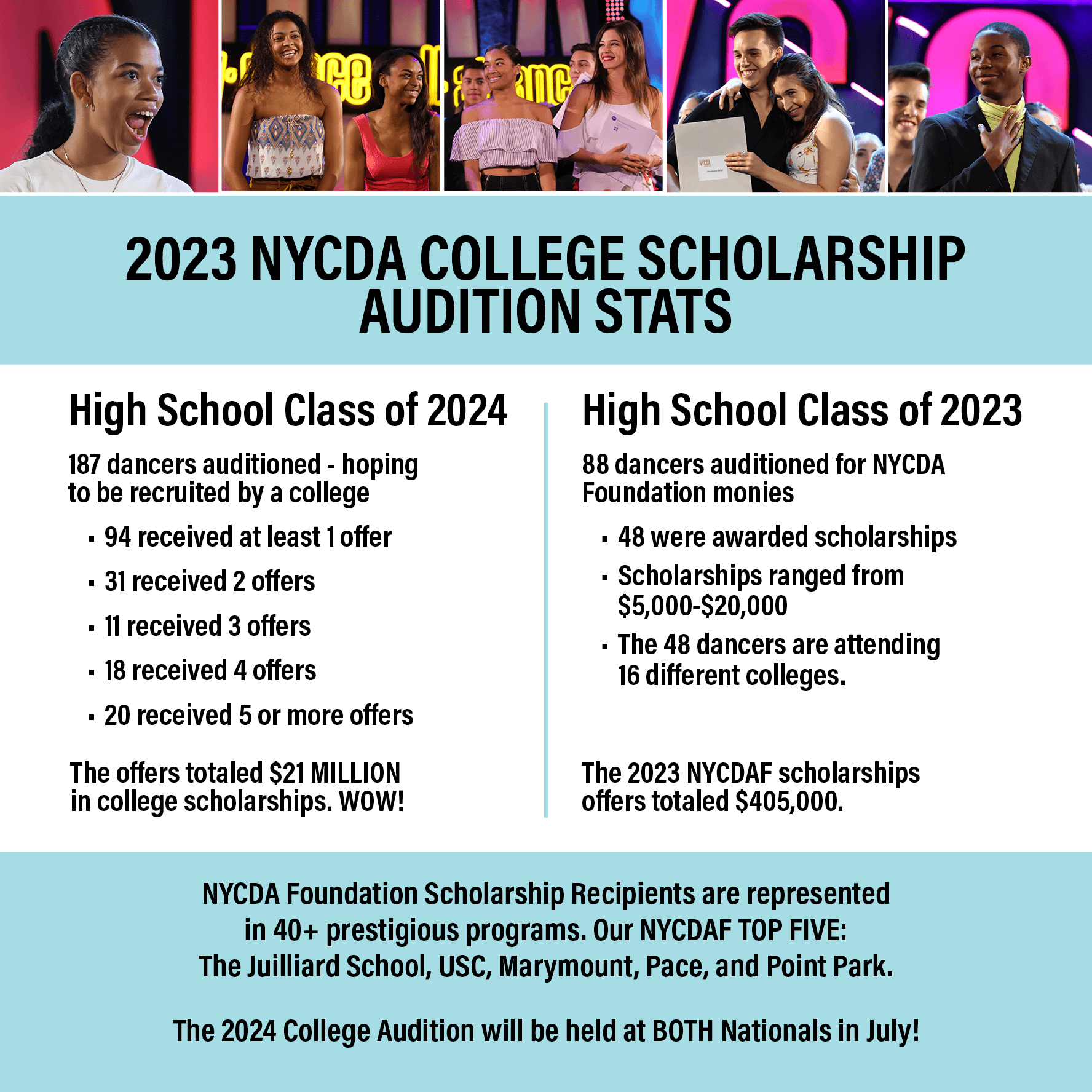 2024 NATIONAL COLLEGE SCHOLARSHIP AUDITION INFORMATION
Eligibility:
Dancers in the High School Graduating Class of 2024 who are hoping to receive monies directly from the NYCDA Foundation, which will be used for tuition payments at the university dance program of their choice. These scholarships usually range from $5,000-$25,000 each. A professional Selection Committee is invited to determine the scholarship recipients - no NYCDA faculty.

Dancers in the High School Graduating Class of 2025 who are hoping to be recruited by one or more of the NYCDA College Partners for the Fall of 2024. These scholarships usually range from $10,000-$150,000 each.

Scholarships are awarded each year through an application and audition process.
There will be two auditions in summer of 2024. July 3rd at the Sheraton New York in New York City and July 16 at the Arizona Biltmore in Phoenix, AZ
GENERAL AUDITION INFO

The 2024 National College Scholarship Audition opportunity is being offered in conjunction with the NYCDA 4-day National Summer Workshop at the Sheraton New York and at the Arizona Biltmore. The audition will consist of a ballet class, a jazz class, a contemporary class, and potential interviews. A separate application is needed to audition. All dancers must participate in all three dance genres.

2024 APPLICATION WILL BE AVAILABLE IN THE SPRING!

ELIGIBILITY: This audition will only be open to dancers registered to attend the NYCDA 4-day Summer Workshop and who have most recently completed their Junior or Senior year in high school. This will also serve as the scholarship evaluation for our College Partners. Below is a list of colleges expected to attend the 2024 audition - subject to change.
Be sure to complete your 4-day Summer Workshop registration by the May 19, 2024 cut-off. After that date, email registration@nycdance.com for assistance. Both the workshop registration and college audition application are required.
TENTATIVE AUDITION SCHEDULE FOR BOTH AUDITIONS
(updated 9/26/23)
8:00 AM
Registration/Warm Up

9:00-11:00 AM
Ballet Audition Class

11:00-11:30 AM
Lunch

11:30 AM-1:00 PM
Jazz Audition
1:00-3:00 PM
Contemporary Audition

3:00-4:00 PM
College Q & A with all attending Deans/representatives. All NYCDA attendees are welcome.
There will also be a College Fair from 9:00 AM-6:00 PM. Representatives from all the attending college partners will be present to distribute information and answer questions.

NYCDA FOUNDATION COLLEGE SCHOLARSHIP PROGRAM
The goal of the NYCDA Foundation College Scholarship Program is to award multiple 4 year college scholarships, primarily with total values of $5,000-$25,000. These scholarships will be awarded as tuition payments directly to the college of YOUR choice. The scholarship recipient must pursue a performance-based major (dance, musical theater BA or BFA program) in college.
In 2019, the Foundation established a program recognizing those dancers who choose to attend a certificate program. Dancers choosing to pursue certain certificate programs will receive 50% of the amount they were originally awarded. Please check with the NYCDA Foundation to make sure the program you are planning on attending qualifies. (NYCDA Foundation scholarships may not be used for programs affiliated with Steps on Broadway.)
Since our inception in 2010, the foundation itself has awarded nearly $5,000,000 in college scholarships. NYCDA Foundation scholarship recipients are now represented in 45 prestigious arts programs across the country.
2024 APPLICATION WILL BE AVAILABLE IN THE SPRING!
COLLEGE PARTNERS AUDITION
Scheduled to Attend in 2024:

Marymount Manhattan College (NY)

Southern Methodist University (TX)
Montclair State University (NJ)
University of Arizona, Tucson (AZ)
Western Michigan University (MI)
Texas Christian University (TX)

California Institute of the ARTS (CA)
Boston Conservatory at Berklee (MA)

Norwalk Conservatory of the Arts (CT)

This audition is only open to students who have just completed their Junior or Senior year of high school.
At the July 2023 NYCDAF National College Auditions, 187 rising high school seniors auditioned for 12 college partners. It resulted in 94 dancers being recruited by the prestigious dance programs and sharing in $21 million in college scholarships offered.


At the July 2023 NYCDAF National College Auditions, 88 recently graduated high school seniors auditioned for the NYCDAF Scholarship Selection Committee. It resulted in 48 dancers sharing in $405,000 in scholarships awarded directly from the NYCDA Foundation, which the dancers can utilize at the college of their choice.
ADDITIONAL SCHOLARSHIP OPPORTUNITY
An additional scholarship audition opportunity has historically been offered annually, in conjunction with the NYCDAF Destiny Rising performance and fundraiser in New York City.
The 2023 details remain TBD. Regrettably, it is likely that COVID will prevent us from having this audition in 2023.
PAST ELIGIBILITY: This audition is open to dancers from studios that have participated in the NYCDAF National Fundraising Campaign. Independent dancers also welcome.
For every $1000 in donations contributed to NYCDAF (Oct. 1, 2021-September 30, 2022), one dancer may attend this private scholarship audition. No limits! Dancers not affiliated with a studio are welcome to fundraise independently. A $1,000 donation to NYCDAF is required.
This audition will be open to all dancers who are in their junior year of high school through their junior year of college.
Each dancer's experience at the audition will include:
Two mandatory college audition classes – one ballet, one contemporary.
The exact number of scholarships to be awarded at each audition/event is still to be determined. Your fundraising dollars will certainly help make a difference in the lives of more dancers.
2024 APPLICATION WILL BE AVAILABLE IN THE SPRING!